WELCOME
We have a once-in-a-lifetime opportunity to build a brand new Specialist Emergency Care Hospital in Sutton and we want you to have your say on our early designs!
Thank you to everyone who engaged with us during our last phase of consultation about Epsom and St Helier University Hospitals NHS Trust's plans to build a new Specialist Emergency Care Hospital in Sutton.
Whether you participated in our public webinars on 17, 19 and 23 June or contacted us by phone or email, or completed our online survey, your feedback is invaluable and will help to shape the proposals going forward.
We have submitted our Outline Business Case to the national New Hospitals Programme for feedback and are waiting for confirmation of next steps. Once this has happened, we will be able to reaffirm our programme delivery timelines, including our target date for planning application submission. We look forward to sharing our updated designs and plans with you soon.
On this website you can:
View the emerging proposals for the new hospital and multi-storey car park – please see the 'The new hospital' tab at the top of this page for more information.
Have your say on the emerging designs by completing our short survey or getting in touch with the consultation team directly. We appreciate your feedback.
To download a copy of our consultation brochure, which contains the information provided on this website, please click here.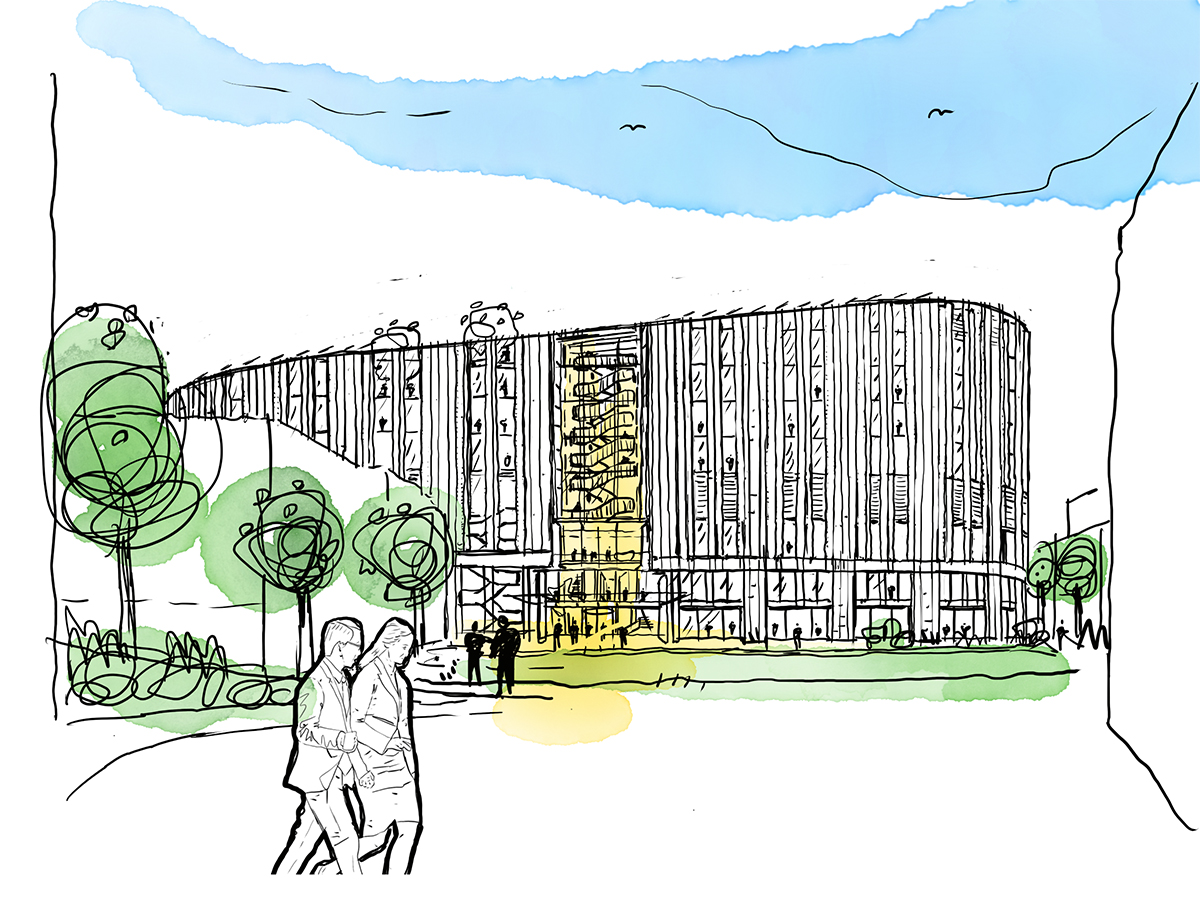 Sketch of the emerging designs of the new hospital looking from the Oak Cancer Centre
Epsom and St Helier University Hospitals
Epsom and St Helier University Hospitals NHS Trust offers an extensive range of services, including cancer, pathology, surgery and gynaecology to over 490,000 people in south-west London and north east Surrey.
The Trust operates two busy general hospitals – Epsom Hospital and St Helier Hospital – and run services from other locations, including the site of the former Sutton Hospital. It is also part of two innovative integrated care partnerships – Sutton Health and Care and Surrey Downs Health and Care.
Work to secure this once-in-a-lifetime funding for the future of Epsom, Sutton and St Helier hospitals has been going on for years – including extensive engagement programmes and the Improving Healthcare Together public consultation, which has involved tens of thousands of people. All of this background information, and prior consultation materials, are online and remain publicly available at www.epsom-sthelier.nhs.uk and www.improvinghealthcaretogether.org.uk.
2015
Epsom and St Helier undertook a comprehensive review of services, resulting in the publication of our long-term estates strategy.
2017
We launched a comprehensive engagement programme (known as Epsom and St Helier 2020-2030) and began work on our Outline Business Case.
January – April 2020
Improving Healthcare Together consultation with the community, stakeholders and our staff on proposals to improve patient care for generations to come, with some changes to hospital services in the area.
July 2020
Joint decision by NHS Surrey Downs and NHS South West London Clinical Commissioning Group to approve the proposed new Specialist Emergency Care Hospital (SECH) on the Sutton Hospital site.
November 2020
Decision ratified by the Secretary of State for Health and Social Care.